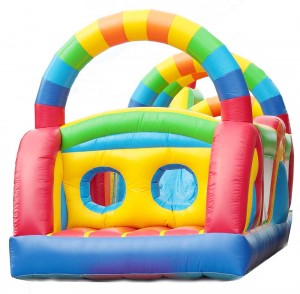 Bounce houses provide children with hours of fun – and XPOWER provides the bounce house industry and consumers with a wide selection of blowers to make them inflate properly and keep them consistently inflated.
While inflatables are both safe and entertaining, they must be employed properly. Party planning rental services will provide guidance in this area, but for consumers, purchasing and setting up a bounce house can be a daunting endeavor.  If you're a consumer with a bounce house, make sure you follow your instruction manual or consult a professional.
Safety, of course, is priority #1. Children of all ages can be unaware of hazards when not given proper direction.  Just like any type of recreational equipment, bounce houses require supervision under watchful adult eyes. Below are some safety tips (and don't forget to use common sense) when you're ready to set up a bounce house.
Make sure it is being watched by an adult who is vigilant at all times during its use.
Keep track of weather reports in advance and do not employ on windy days.
Be sure the bounce house is tethered well, whether it is with stakes on the ground or water barrels. Monitor the tethering during activity.
Bounce house should be fully inflated at all times. Check your equipment during its use – both the bounce house AND the blower.
If you've followed all these strategies, you can be confident knowing that your bounce house experience will be a positive one.